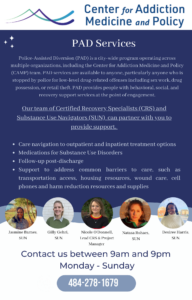 Police-Assisted Diversion is the earliest opportunity for diversion away from the criminal justice system and into services after law enforcement contact for individuals with complex unmet health needs. Four diversion pathways include:
1. Arrest Referral- Diversion at the point of arrest for retail theft, sex work, and unlawful possession or purchasing of Narcotics
2. Social Referral- Warm handoff by law enforcement to service provider during mere encounters with the police when there is no reasonable suspicion or probable cause for an arrest 
3. Co-Responding Referral- Active engagement by tandem behavioral health and law enforcement teams in designated areas or responding to quality of life calls for service
4. Social Referrals from the community- PAD services are available to any community member desiring additional support
Please contact the CareConnect Warmline hotline 7 days a week 9am-9pm to request PAD support. A Substance Use Navigator will answer your call, provide support, and connect you to any and all resources. 
Please contact Gilly Gehri at gilly.gehri@pennmedicine.upenn.edu with any programmatic questions.