Are you interested in X-Waiver training?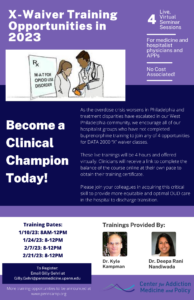 Following this live 4-hour training, physicians will need to complete an online 4-hour course through PCSS (APPs need 16 additional hours). Since this "live" virtual training will be given by Penn clinicians, it will be more interactive and will encapsulate Penn specific approaches.
To complete the X-Waiver training at your own pace, providers can also take an all online 8-hour course through PCSS (24 hours for APPs).
Overdose Reversal Training